Riviera Riviera blends sophistication with a contemporary flair to create a casually elegant ambiance. From the sparkling Lalique Grand Staircase to the stunning Owner's…
Riviera
Riviera blends sophistication with a contemporary flair to create a casually elegant ambiance. From the sparkling Lalique Grand Staircase to the stunning Owner's Suites furnished with Ralph Lauren Home, designer touches are everywhere, highlighting the finest residential design and furnishings. More than anything, Riviera personifies the Oceania Cruises experience.
Trip Outline
Trip Includes
Trip Excludes
Gallery
Reviews
Booking
FAQ
The Oceania Cruises Experience
Each of our voyages is an invitation to discover your next travel story and reignite your passions. Experience faraway places that you have always dreamed of. Encounter new ways of looking at the world and travel to the far corners of the globe. Savor your experience with imaginative insider tours that immerse you in the heart of the destination's culinary and cultural traditions.
Thousands of reasons – one passion. There are as many reasons to travel as there are travelers in this world. It's your turn to embrace your passion for travel with Oceania Cruises.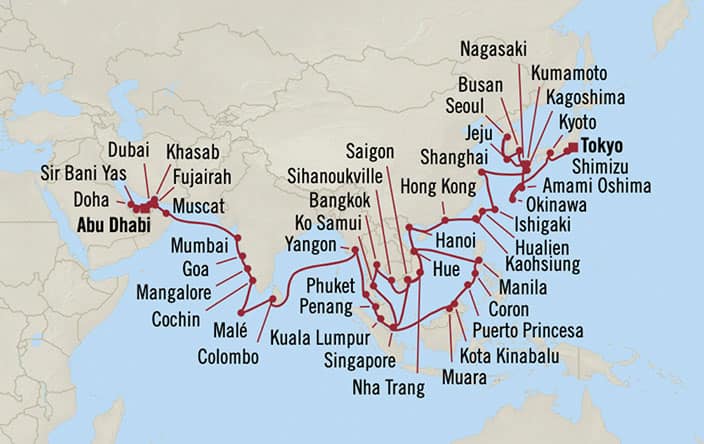 Some of the ports are highlighted below :
Itineraries
Day 1
Date : December 29, 2023
Embarkation Day: Abu Dhabi, UAE
Embarkation Day in Abu Dhabi, United Arab Emirates. Take some time to explore all that the Oceania Riviera has to offer
The stunning Riviera was designed to be special in so many ways and reflects a new level of grace and elegance through designer touches, upholstery and fabrics throughout.
Day 2
Date : December 30, 2023
Doha, Qatar
Doha is the capital and most populous city of Qatar. It has a population of 2,382,000. The city is located on the coast of the Persian Gulf in the east of the country, north of Al Wakrah and south of Al Khor.
Day 4
Date : January 4, 2024
Muscat, Oman
Muscat, Oman's port capital, sits on the Gulf of Oman surrounded by mountains and desert. With history dating back to antiquity, it mixes high-rises and upscale shopping malls with clifftop landmarks such as the 16th-century Portuguese forts, Al Jalali and Mirani, looming over Muscat Harbor. Its modern, marble-clad Sultan Qaboos Grand Mosque, with 50m dome and prodigious Persian carpet, can accommodate 20,000 people
Day 13
Date : January 10, 2024
Mangalore, India
Mangalore (or Mangaluru) is an Arabian Sea port and a major commercial center in the Indian state of Karnataka. It's home to the Kadri Manjunath Temple, known for its bronze statues, and the 9th-century Mangaladevi Temple. Its Catholic sites include Milagres Church, dating to the 17th century, and St. Aloysious Chapel, which features interior paintings. Tannirbhavi Beach is popular for its sunset views
Day 19
Date : January 16, 2024
Colombo, Sri Lanka
Colombo is the commercial capital and largest city of Sri Lanka by population. According to the Brookings Institution, Colombo metropolitan area has a population of 5.6 million, and 752,993 in the Municipality. It is the financial centre of the island and a tourist destination
Day 27
Date : January 24, 2024
Phuket, Thailand
Phuket, a rainforested, mountainous island in the Andaman Sea, has some of Thailand's most popular beaches, mainly situated along the clear waters of the western shore. The island is home to many high-end seaside resorts, spas and restaurants. Phuket City, the capital, has old shophouses and busy markets. Patong, the main resort town, has many nightclubs, bars and discos
Day 36
Date : February 2, 2024
Coron, Philippines
Coron, officially the Municipality of Coron, is a 1st class municipality in the province of Palawan, Philippines
Day 40
Date : February 6, 2024
Nha Trang, Vietnam
Nha Trang is a coastal resort city in southern Vietnam known for its beaches, diving sites and offshore islands. Its main beach is a long, curving stretch along Tran Phu Street backed by a promenade, hotels and seafood restaurants. Aerial cable cars cross over to Hòn Tre Island, and the nature reserves of Hòn Mun and Hòn Tằm islands, reachable by boat, have coral reefs
Day 48
Date : February 14, 2024
Ko Samui, Thailand
The Wat Khunaram to see a Mummified Monk
This temple stores the body of a Buddhist monk who died whilst meditation in a seated position. It was decided that his body would be preserved and he has been displayed in a glass case ever since. The mummified monk is still in good condition with no signs of degradation. Many local people visit the temple on a daily basis to pray.
Day 57
Date : February 23, 2024
Hanoi (Ha Long Bay) Vietnam
Hanoi, the capital of Vietnam, is known for its centuries-old architecture and a rich culture with Southeast Asian, Chinese and French influences. At its heart is the chaotic Old Quarter, where the narrow streets are roughly arranged by trade. There are many little temples, including Bach Ma, honoring a legendary horse, plus Đồng Xuân Market, selling household goods and street food
Day 64
Date : March 1, 2024
Ishigaki, Japan
Ishigaki Island is the commercial hub of the Yaeyama Islands, in Japan's southwestern Okinawa Prefecture. It's known for beaches and sites for snorkeling, diving and surfing. Within Iriomote-Ishigaki National Park lies the Shiraho Reef's rare blue coral. In the interior is Mt. Omoto and other peaks. On the northern Hirakubo Peninsula is the Fukido River, a mangrove forest habitat.
Day 69
Date : March 6, 2024
Kagoshima, Japan
Kagoshima, a seaside city on Japan's Kyushu Island, is the capital of Kagoshima Prefecture. It's best known for Sakurajima, an active volcano that faces Kinko Bay. At its base, the Nagisa Lava Trail winds through lava fields filled with boulders. Once set on an isolated island, the volcano became connected to the Osumi Peninsula after an eruption in 1914.
Day 77
Date : March 14, 2024
Okinawa (Naha) Japan
Naha is the capital of Okinawa Prefecture, the tropical island group south of mainland Japan. It's known for Shuri Castle, the restored royal palace of the Ryukyu Kingdom, which flourished from the 1400s–1800s and invented the martial art karate. Tsuboya district is assocated with traditional ceramics like shiisa (lion-dog figures). Lined with shops, bars and restaurants, Kokusaidori is Naha's main street.
Day 83
Date : March 20, 2024
Debarkation: Tokyo, Japan
Although a bitter-sweet day, you have undoubtedly experienced an unforgettable journey, filled with exotic ports, unforgettable experiences and cherished memories.