Oceania – 79 Day Ultimate Exotic Traveler – Papeete to Cape Town – Feb 19, 2024
Nautica Sleek and elegantly charming, Nautica's decks are resplendent in the finest teak, custom stone and tile work, and her lounges, suites and staterooms…
Overview
Trip Outline
Trip Includes
Trip Excludes
Gallery
Reviews
Booking
FAQ
79 Day Ultimate Exotic Traveler
With treasures as diverse as the aquamarine lagoons of French Polynesia and villages dotting far-flung Papua New Guinea, this one-of-a-kind itinerary invites you to revel in some of the most exotic – and remote – destinations in the world.
The Oceania Cruises Experience
Each of our voyages is an invitation to discover your next travel story and reignite your passions. Experience faraway places that you have always dreamed of. Encounter new ways of looking at the world and travel to the far corners of the globe. Savor your experience with imaginative insider tours that immerse you in the heart of the destination's culinary and cultural traditions.
Thousands of reasons – one passion. There are as many reasons to travel as there are travelers in this world. It's your turn to embrace your passion for travel with Oceania Cruises.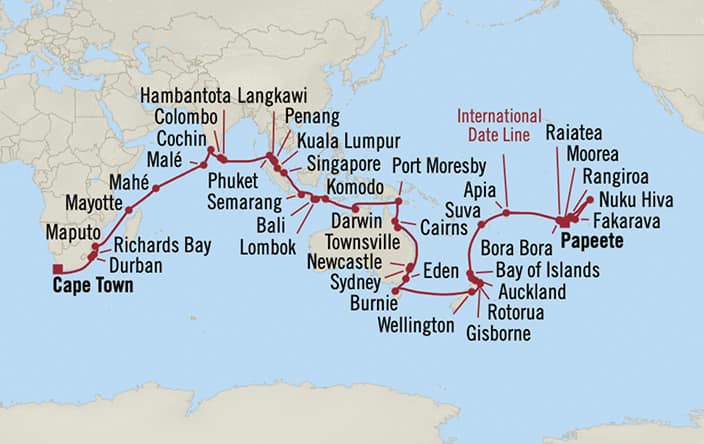 Some ports are highlighted below
Itineraries
Day 1
Date : February 19, 2024
Embarkation Day Papeete (Tahiti) French Polynesia
Embarkation Day in Papeete (Tahiti) French Polynesia. Take some time to explore all that the Oceania Nautica has to offer
The stunning Nautica was designed to be special in so many ways and reflects a new level of grace and elegance through designer touches, upholstery and fabrics throughout.
Day 8
Date : February 26, 2024
Bora Bora, French Polynesia
Bora Bora is a small South Pacific island northwest of Tahiti in French Polynesia. Surrounded by sand-fringed motus (islets) and a turquoise lagoon protected by a coral reef, it's known for its scuba diving. At the island's center rises Mt. Otemanu, a 727m dormant volcano.
Day 15
Date : March 4, 2024
Pago Pago, American Samoa
Pago Pago, the capital of American Samoa, comprises a string of coastal villages on Tutuila Island. It's a gateway to the National Park of American Samoa, which protects lush rainforest, coral reefs and waters visited by humpback whales. Fagatogo village is home to the Jean P. Haydon Museum, exhibiting local historic artifacts in a former U.S. Navy facility. A trail leads up to Blunts Point Battery, a WWII gun site
Day 22
Date : March 11, 2024
Bay of Islands, New Zealand
The Bay of Islands is a New Zealand enclave encompassing more than 140 subtropical islands next to the country's North Island. It's known for its undeveloped beaches, big-game fishing and Maori cultural artefacts. It's also home to the 19th-century whaling port of Russell, whose waterfront promenade is lined with remnants from its days as the country's first colonial capital.
Day 26
Date : March 15, 2024
Wellington, New Zealand
Wellington, the capital of New Zealand, sits near the North Island's southernmost point on the Cook Strait. A compact city, it encompasses a waterfront promenade, sandy beaches, a working harbor and colorful timber houses on surrounding hills. From Lambton Quay, the iconic red Wellington Cable Car heads to the Wellington Botanic Gardens. Strong winds through the Cook Strait give it the nickname "Windy Wellington."
Day 32
Date : March 21, 2024
Sydney, Australia
Sydney, capital of New South Wales and one of Australia's largest cities, is best known for its harbourfront Sydney Opera House, with a distinctive sail-like design. Massive Darling Harbour and the smaller Circular Quay port are hubs of waterside life, with the arched Harbour Bridge and esteemed Royal Botanic Garden nearby. Sydney Tower's outdoor platform, the Skywalk, offers 360-degree views of the city and suburbs.
Day 41
Date : March 30, 2024
Port Moresby, Papua New Guinea
Port Moresby is the sprawling capital of Papua New Guinea, a country north of Australia. The vast anthropological collection at the PNG National Museum and Art Gallery includes masks and carved wooden poles. Nearby, Parliament House is modeled on a traditional house of worship. Its entrance is dominated by a large, colorful mosaic featuring national motifs. There are views over Port Moresby Harbour from Paga Hill
Day 46
Date : April 4, 2024
Komodo, Indosesia
Komodo island, part of the Lesser Sunda chain of Indonesian islands, is the rugged habitat of the 3m-long Komodo dragon monitor lizard. Komodo National Park covers the entire region and is home to more than 4,000 dragons, and is made up of rusty-red volcanic hills, savannah and forests. Its surrounding waters of seagrass beds, mangrove shrublands and coral reefs are famous for diving
Day 59
Date : April 17, 2024
Yangon, Myanmar
Yangon (formerly known as Rangoon) is the largest city in Myanmar (formerly Burma). A mix of British colonial architecture, modern high-rises and gilded Buddhist pagodas define its skyline. Its famed Shwedagon Paya, a huge, shimmering pagoda complex, draws thousands of pilgrims annually. The city's other notable religious sites include the Botataung and Sule pagodas, both housing Buddhist relics.
Day 64
Date : April 22, 2024
Colombo, Sri Lanka
Colombo is the commercial capital and largest city of Sri Lanka by population. According to the Brookings Institution, Colombo metropolitan area has a population of 5.6 million, and 752,993 in the Municipality. It is the financial centre of the island and a tourist destination
Day 71
Date : April 29, 2024
Mahe, Seychelles
Mahé is the largest island in the Seychelles archipelago, in the Indian Ocean off East Africa. Its terrain is defined by white-sand beaches such as those in the popular resort area of Beau Vallon, and granite peaks including the rainforested Morne Seychellois. The island is also home to Victoria, Seychelles' capital, known for Creole architecture and a colorful covered market with wares like fish, fruit and clothing
Day 76
Date : May 4, 2024
Maputo, Mozambique
Maputo, capital of East Africa's Mozambique, is an Indian Ocean port with preserved Portuguese colonial architecture. Many turn-of-the-century buildings are in the downtown jacaranda-lined Baixa neighborhood. The bronze-domed CFM Maputo Railway Station, for example, was completed in 1916. The Baixa also has an expansive Municipal Market. The neoclassical City Hall is in the nearby Praça da Independência square.
Day 80
Date : May 23, 2024
Debarkation: Cape Town, South Africa
Although a bitter-sweet day, you have undoubtedly experienced an unforgettable journey, filled with exotic ports, unforgettable experiences and cherished memories.