Regatta Enjoy Personalized Service Sailing To The Far Corners Of The Globe On Our Luxurious Ships. Embrace Your Passion For Travel With Oceania Cruises
Regatta
Enjoy Personalized Service Sailing To The Far Corners Of The Globe On Our Luxurious Ships. Embrace Your Passion For Travel With Oceania Cruises
Trip Outline
Trip Includes
Trip Excludes
Gallery
Reviews
Booking
FAQ
The Oceania Cruises Experience
Each of our voyages is an invitation to discover your next travel story and reignite your passions. Experience faraway places that you have always dreamed of. Encounter new ways of looking at the world and travel to the far corners of the globe. Savor your experience with imaginative insider tours that immerse you in the heart of the destination's culinary and cultural traditions.
Thousands of reasons – one passion. There are as many reasons to travel as there are travelers in this world. It's your turn to embrace your passion for travel with Oceania Cruises.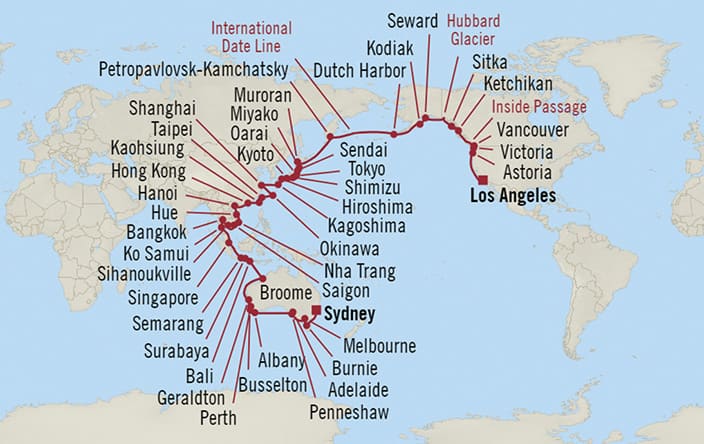 Some of the ports have been highlighted below:
Itineraries
Day 1
Date : October 4, 2023
Embarkation : Los Angeles, CA
Embarkation Day:
As you embark on your 77 day journey, take a moment to explore all that the Regatta has to offer.
Regatta offers every luxury you may expect on board one of our stylish ships. She features four unique, open-seating restaurants, the Aquamar Spa + Vitality Center, eight lounges and bars, a casino and 342 lavish suites and luxurious staterooms, nearly 70% of which feature private verandas. With just 684 guests to pamper, our 400 professionally trained European staff ensure you will wait for nothing.
Day 8
Date : October 11, 2023
Ketchikan, Alaska
Ketchikan is an Alaskan city facing the Inside Passage, a popular cruise route along the state's southeastern coast. It's known for its many Native American totem poles, on display throughout town. Nearby Misty Fiords National Monument is a glacier-carved wilderness featuring snowcapped mountains, waterfalls and salmon spawning streams. It's also home to rich wildlife including black bears, wolves and bald eagles.
Day 14
Date : October 17, 2023
Dutch Harbor, Alaska
Unalaska / Port of Dutch Harbor
Situated between the Pacific Ocean to the south and the Bering Sea to the north, the Aleutian Island community of Unalaska/Dutch Harbor is rich in history, and for the last 20 years has been the top commercial fishing port in the country.
Day 23
Date : October 26, 2023
Miyako, Japan
Miyako is known for its beautiful coastline, especially the popular Jodogahama Beach on a scenic peninsula just north of the city center
Day 26
Date : October 26, 2023
Tokyo, Japan
Tokyo, Japan's busy capital, mixes the ultramodern and the traditional, from neon-lit skyscrapers to historic temples. The opulent Meiji Shinto Shrine is known for its towering gate and surrounding woods. The Imperial Palace sits amid large public gardens. The city's many museums offer exhibits ranging from classical art (in the Tokyo National Museum) to a reconstructed kabuki theater (in the Edo-Tokyo Museum)
Day 30
Date : November 2, 2023
Hiroshima, Japan
Hiroshima, a modern city on Japan's Honshu Island, was largely destroyed by an atomic bomb during World War II. Today, Hiroshima Peace Memorial Park commemorates the 1945 event. In the park are the ruins of Genbaku Dome, one of the few buildings that was left standing near ground zero. Other prominent sites include Shukkei-en, a formal Japanese garden, and Hiroshima Castle, a fortress surrounded by a moat and a park
Day 34
Date : November 6, 2023
Shanghai, China
Shanghai, on China's central coast, is the country's biggest city and a global financial hub. Its heart is the Bund, a famed waterfront promenade lined with colonial-era buildings. Across the Huangpu River rises the Pudong district's futuristic skyline, including 632m Shanghai Tower and the Oriental Pearl TV Tower, with distinctive pink spheres. Sprawling Yu Garden has traditional pavilions, towers and ponds
Day 37
Date : November 9, 2023
Taipei (Keelung) Taiwan
Taipei, the capital of Taiwan, is a modern metropolis with Japanese colonial lanes, busy shopping streets and contemporary buildings. The skyline is crowned by the 509m-tall, bamboo-shaped Taipei 101 skyscraper, with upscale shops at the base and a rapid elevator to an observatory near the top. Taipei is also known for its lively street-food scene and many night markets, including expansive Shilin market.
Day 43
Date : November 15, 2023
Hanoi (Ha Long Bay) Vietnam
Hanoi, the capital of Vietnam, is known for its centuries-old architecture and a rich culture with Southeast Asian, Chinese and French influences. At its heart is the chaotic Old Quarter, where the narrow streets are roughly arranged by trade. There are many little temples, including Bach Ma, honoring a legendary horse, plus Đồng Xuân Market, selling household goods and street food.
Day 50
Date : November 22, 2023
Sihanoukville, Cambodia
Sihanoukville, also known as Kampong Som is a coastal city in Cambodia and the capital of Preah Sihanouk Province, at the tip of an elevated peninsula in the country's south-west on the Gulf of Thailand.
Day 52
Date : November 24, 2023
Bangkok, Thailand
Bangkok, Thailand's capital, is a large city known for ornate shrines and vibrant street life. The boat-filled Chao Phraya River feeds its network of canals, flowing past the Rattanakosin royal district, home to opulent Grand Palace and its sacred Wat Phra Kaew Temple. Nearby is Wat Pho Temple with an enormous reclining Buddha and, on the opposite shore, Wat Arun Temple with its steep steps and Khmer-style spire.
Day 58
Date : November 30, 2023
Surabaya, Indonesia
Surabaya is a port city on the Indonesian island of Java. A vibrant, sprawling metropolis, it mixes modern skyscrapers with canals and buildings from its Dutch colonial past. It has a thriving Chinatown and an Arab Quarter whose Ampel Mosque dates to the 15th century. The Tugu Pahlawan (Heroes Monument) honors the independence battles waged in Surabaya's streets in 1945.
Day 62
Date : December 4, 2023
Broome, Australia
Broome is a beach resort town in western Australia's Kimberley region. Along its Indian Ocean coastline, the white sands of 22km-long Cable Beach offer a dramatic backdrop for sunset camel rides. At Gantheaume Point nearby, dinosaur tracks are revealed in the beach's red rocks during low tide. Broome's historic Chinatown overlooks Roebuck Bay, a jumping off point for cruises to local pearl farms.
Day 68
Date : December 10, 2023
Busselton, Australia
Busselton is a city on the southwest tip of Western Australia. It's known for its sheltered beach and seasonal humpback whale populations. The beachfront features the 19th-century Busselton Jetty. This wood pier stretches nearly 2km to the Underwater Observatory, where life in a coral reef is on view. To the city's northeast, the towering tuart trees of Tuart Forest National Park are home to 2 species of possum.
Day 75
Date : December 17, 2023
Melbourne, Australia
Melbourne is the coastal capital of the southeastern Australian state of Victoria. At the city's centre is the modern Federation Square development, with plazas, bars, and restaurants by the Yarra River. In the Southbank area, the Melbourne Arts Precinct is the site of Arts Centre Melbourne – a performing arts complex – and the National Gallery of Victoria, with Australian and indigenous art.
Day 79
Date : December 21, 2023
Debarkation: Sydney, Australia
Although a bitter-sweet day, you have undoubtedly experienced an unforgettable journey, filled with exotic ports, unforgettable experiences and cherished memories.