Oceania – 72 Day Epic Eastern Explorer – Mumbai to Tokyo – Jan 08, 2024
Riviera Riviera blends sophistication with a contemporary flair to create a casually elegant ambiance. From the sparkling Lalique Grand Staircase to the stunning Owner's…
Keywords :
Asia
,
Hong Kong
,
India
,
Japan
,
Malaysia
,
Myanmar
,
Philippines
,
Singapore
,
South Korea
,
Sri Lanka
,
Taiwan
,
Thailand
,
Vietnam
Overview
Trip Outline
Trip Includes
Trip Excludes
Gallery
Reviews
Booking
FAQ
72 Day Epic Eastern Explorer
Immerse yourself in the sublime cultural and spiritual legacies of the East for more than two months – gain perspective on Buddhism in Myanmar's monasteries, contrast rural and city life in Vietnam, experience revered culinary traditions in Japan and more.
The Oceania Cruises Experience
Each of our voyages is an invitation to discover your next travel story and reignite your passions. Experience faraway places that you have always dreamed of. Encounter new ways of looking at the world and travel to the far corners of the globe. Savor your experience with imaginative insider tours that immerse you in the heart of the destination's culinary and cultural traditions.
Thousands of reasons – one passion. There are as many reasons to travel as there are travelers in this world. It's your turn to embrace your passion for travel with Oceania Cruises.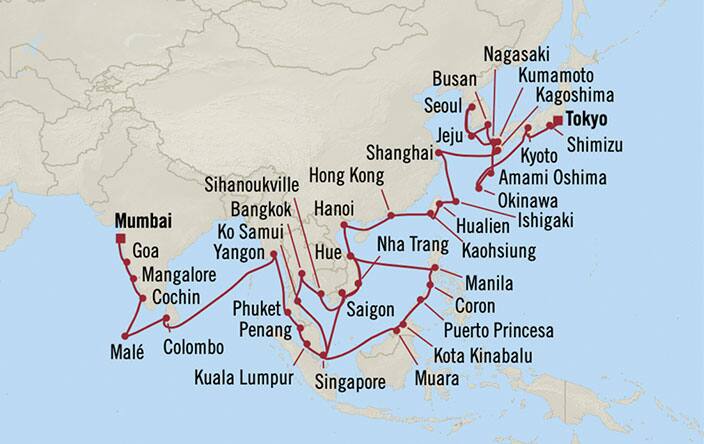 Some of the ports are highlighted below:
Itineraries
Day 1
Date : January 8, 2024
Mumbai, India
Embarkation Day in Mumbai, India. Take some time to explore all that the Oceania Riviera has to offer
The stunning Riviera was designed to be special in so many ways and reflects a new level of grace and elegance through designer touches, upholstery and fabrics throughout.
Day 6
Date : January 13, 2024
Male, Maldives
Malé is the densely populated capital of the Maldives, an island nation in the Indian Ocean. It's known for its mosques and colorful buildings. The Islamic Centre (Masjid-al-Sultan Muhammad Thakurufaanu Al Auzam) features a mosque, a library and a distinctive gold dome. Near the harbor, a popular fish market offers the day's catch, and a produce market is stocked with local fruit.
Day 15
Yangon, Myanmar
Yangon (formerly known as Rangoon) is the largest city in Myanmar (formerly Burma). A mix of British colonial architecture, modern high-rises and gilded Buddhist pagodas define its skyline. Its famed Shwedagon Paya, a huge, shimmering pagoda complex, draws thousands of pilgrims annually. The city's other notable religious sites include the Botataung and Sule pagodas, both housing Buddhist relics.
Day 20
Date : January 27, 2024
Singapore, Singapore
Singapore, officially the Republic of Singapore, is a sovereign island city-state in maritime Southeast Asia.
Day 24
Date : January 31, 2024
Kota Kinabalu (Borneo) Malaysia
Kota Kinabalu is the capital of Malaysia's Sabah state in the northern part of the island of Borneo. Often referred to as KK, it's a coastal city partly surrounded by rainforest. It's known for its bustling markets, modern boardwalk, beaches and waterfront Kota Kinabalu City Mosque. It is also a gateway to Kinabalu National Park, the home of 4,095m-high Mount Kinabalu.
Day 29
Date : February 5, 2024
Hue (Chan May) Vietnam
Explore the only intact traditional trading port in Vietnam, a remarkably preserved ancient area known for its outstanding wooden architecture.
Depart from the pier and begin a scenic drive south through verdant Bach Ma National Park and along the shore in Da Nang, a major U.S. military air base during the Vietnam War. You'll stop briefly for photos at famous Marble Beach, which was more commonly known as China Beach, or My Khe as it's called locally. It is a simply gorgeous stretch of sand that nestles in the shadow of the Marble Mountains. Each of the five mountains is dedicated to an element such as water or fire, and as you pass through the valleys, you may see villagers cutting beautiful stone sculptures from quarried marble.
Day 34
Date : February 10, 2024
Sihanoukville, Cambodia
Sihanoukville is a province in southwest Cambodia known for its beaches, tropical islands and the mangrove jungles of Ream National Park. Set around a deep-water port on a peninsula jutting into the Gulf of Thailand, the provincial capital of Sihanoukville has palm-fringed beaches, seafood restaurants and late-night bars. Overlooking the capital is the hilltop Buddhist temple of Wat Leu.
Day 42
Date : February 18, 2024
Saigon (Ho Chi Minh City) Vietnam
Ho Chi Minh City, formerly known as Saigon, is the largest city in Vietnam. Located in Southern Vietnam, the city surrounds the Saigon River
Day 49
Date : February 25, 2024
Hong Kong, China
Hong Kong, officially the Hong Kong Special Administrative Region of the People's Republic of China, is a city and special administrative region of China on the eastern Pearl River Delta in South China.
Day 53
Date : February 29, 2024
Taipei (Keelung) Taiwan
Taipei, the capital of Taiwan, is a modern metropolis with Japanese colonial lanes, busy shopping streets and contemporary buildings. The skyline is crowned by the 509m-tall, bamboo-shaped Taipei 101 skyscraper, with upscale shops at the base and a rapid elevator to an observatory near the top. Taipei is also known for its lively street-food scene and many night markets, including expansive Shilin market.
Day 57
Date : March 4, 2024
Shanghai, China
Shanghai, on China's central coast, is the country's biggest city and a global financial hub. Its heart is the Bund, a famed waterfront promenade lined with colonial-era buildings. Across the Huangpu River rises the Pudong district's futuristic skyline, including 632m Shanghai Tower and the Oriental Pearl TV Tower, with distinctive pink spheres. Sprawling Yu Garden has traditional pavilions, towers and ponds.
Day 60
Date : March 7, 2024
Nagasaki, Japan
Nagasaki is a Japanese city on the northwest coast of the island of Kyushu. It's set on a large natural harbor, with buildings on the terraces of surrounding hills. It is synonymous with a key moment during World War II, after suffering an Allied nuclear attack in August 1945. The event is memorialized at the city's Atomic Bomb Museum and Peace Park
Day 64
Date : March 11, 2024
Busan, South Korea
Busan, a large port city in South Korea, is known for its beaches, mountains and temples. Busy Haeundae Beach features the Sea Life Aquarium, plus a Folk Square with traditional games such as tug-of-war, while Gwangalli Beach has many bars and views of modern Diamond Bridge. Beomeosa Temple, a Buddhist shrine founded in 678 A.D., is at the base of Geumjeong Mountain, which has hiking trails.
Day 70
Date : March 17, 2024
Kyoto (Kobe) Japan
Kyoto, once the capital of Japan, is a city on the island of Honshu. It's famous for its numerous classical Buddhist temples, as well as gardens, imperial palaces, Shinto shrines and traditional wooden houses. It's also known for formal traditions such as kaiseki dining, consisting of multiple courses of precise dishes, and geisha, female entertainers often found in the Gion district.
Day 73
Date : March 20, 2024
Debarkation: Tokyo (Yokohama) Japan
Although a bitter-sweet day, you have undoubtedly experienced an unforgettable journey, filled with exotic ports, unforgettable experiences and cherished memories.